"If we fail here in Mother Earth Planet A;
There's no Plan B!"
As the One Planet Climate Summit takes place on the anniversary of the Paris Climate Accord in Paris resumed this week, we are address again the idea that the more damage we do to the Earth, the less we will have. Our chance is now, not later. The promotion of green investment, green buildings, green energy, green all across the board to combat global warming is a conversation that is appearing more and more often as concerns are growing.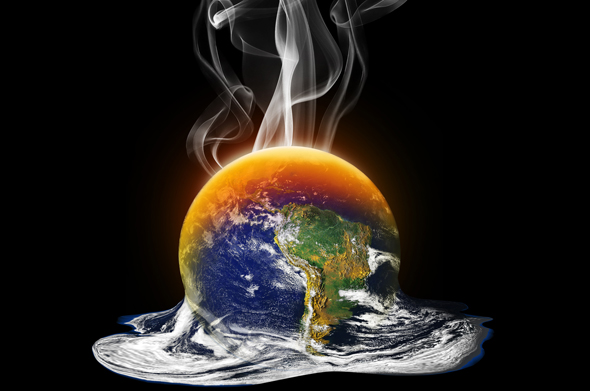 Politicians, Finance Industry Reps, High Public Figures, French Ministers, Presidents, World Leaders, and much more were in attendance at the Summit on how to deal and discuss climate change that's quickly advancing into a much worst situation. French President feels "We are not moving fast enough," and I couldn't agree with him more. Why are we waiting, and continuing to "not do" and instead "do wrong". It cannot be that possibly hard to change or get better with all the money floating around to wars and repealing Net Nuetrality versus actually doing meaningful work, I mean ARE WE SERIOUS HERE GUYS?! As he continued, "we are losing the battle..." and we are being stomped in the ground now. On a global stance we have to pay attention and actually make moves for improvement and stop just "talking!" Germany's Environment Minister Barbara Hendricks commented, "it's all about directing investments worldwide towards climate-friendly options." I couldn't agree more.
We collectively as the WORLD have to make WORLDWIDE commitment to change and ACTUALLY do it. We have to look at other countries successful changing and take note from them to follow their example. We cannot be a "We're better than you; we're number one; why change something that's working fine" kind of country because clearly it's not working if the carbon dioxide emissions are not reducing but multiplying at all time rates. The opening speech of Fijian Prime Minister Frank Bainimarama set the tone of the summit perfectly; "While the challenge is great, we must do everything in our power to meet it. We know it is the difference between life and death for millions of vulnerable people around the world... there are trillions of dollars sitting in private investment institutions [and] we must unlock that finance..." He urges banks and other investors to put money more quickly into companies that are the biggest contributors to global warming to further encourage them to reconsider and change their ways. And again, that brings me to the point of "if there's a will, there's a way!" When you have the will to do something it can be done but if there's no care to change, nothing will get done... period.
Bob, A Climate Expert, has been following climate trends, predictions, rates, and information for over 40 years. He first hand has seen the changes over the years. Regardless of the doubt that media or other forms of information may say, climate change is very real. Small degree changes mean a lot and humans have been a contributing factor to the extremities we are seeing in real life. He has been national rated and reviewed, as well on national television channels, what he has to say is valuable and needs to be seen! From ice ages coming and going to the difference between weather and climate, he explains a lot of why, what, when, how, who you should know in the video. Twenty minutes are worth watching this video! Watch it!
Arnold Schwarzenegger and Elon Musk were some of the attendants of the One Planet summit last week as well. He commented on Trump; withdrawing from the Paris Agreement and canceling funding to climate research while in his reign; "It doesn't matter that Donald Trump backed out of the Paris Agreement, because the private sector didn't drop out, the public sector didn't drop out, universities didn't drop out, no one dropped out." More than non of us believe in climate change and it's not a "hoax" as Trump said it to be. I also have to tip my hat off to Elon Musk who is attempting to changing the world one car, spaceship, and tunnel at a time. Within the last two months he released a 18-wheeler truck that is going to revolutionize the trucking industry; with less emissions, all electric and going for 500 miles on a single charge can change the way accident prevention happens making you stop and charge as well as cargo being a quicker drop. Things can change, innovators are looking for eco-friendly options, it exist- We just have to invest it...
The Commissioner of the EU, Miguel Arias Canete announced the future investments in the Green Sector Project will be 10.6 Billion or more in Africa projects thru 2020 as a program to broaden the investment program in Africa. This will make European banks required to hold for sustainable investments. These efforts will part of a larger package that will come out in March 2018 to ensure the EU meets its carbon reduction targets by 2030. They are putting for great effort to get these things done and making sure they are going according to what should be done.
Overall this summit was beneficial to all environmentalist and people who have interest in the climate change being a serious issue that must be address and combated with serious tactics. We at Conserv A Store know going green is important to be friendly to the Earth. There's no plan B if something drastic happens and history repeats itself. We have to be conscious in every step we take that can impact the world. Every little bit counts, from saving water, reducing you carbon footprint, and using eco friendly products - you can make a difference. At
www.conservastore.com
we have a numerous array of products that can help you do just that (and save some money) and much more. Give us a change and help us help you.